News /
Bringing Transparency and Safety to the World of Food – Kezzler Speaks At GFSI
Kezzler's Chief Executive Officer, Christine Akselsen, yesterday took to the stage at the Global Food Safety Initiative (GFSI) Conference in Seattle, where she addressed the world's leading food safety experts, setting out how Kezzler's technology is bringing transparency to the world of food.
This year's GFSI conference set in Seattle attracted over 1,000 delegates, who represented 60 countries and spanned the food industry, academia, the public sector and beyond. The theme of the event was 'One Connected World. One Safe Food Supply', with Kezzler among the featured tech companies.
Akselsen participated in one of the GFSI's 'Shark Tank' sessions entitled 'Innovation & Technology – Information Optimisation: leveraging and managing public information', in which Kezzler, the Food Standards Agency (FSA) and Hazel Analytics each detailed the ways their work is advancing food safety.
Speaking on the event Akselsen stated, "Over the past 16 years Kezzler has deployed digital solutions to support traceability and authentication across the globe, from sweet potatoes in the US to infant formula in China. We help brands secure their supply chains to keep their consumers safe and bring transparency to end-users."
"With almost one in ten people in the world falling ill after eating contaminated food every year there is a responsibility for industry to harness digital solutions that can support safety throughout the supply chain," Akselsen stated.
Urgent Need to Digitalize Supply Chains
Drawing attention to the various challenges brands face when seeking to ensure food safety across complex global supply chains, Akselsen emphasised the urgent need for brands to adapt in order to bring transparency to the world of food.
"In the past traceability has been considered desirable but difficult to achieve. This is no longer the case. Kezzler's serialization solutions can provide visibility from creation to consumption and also provide brands with a way to enable product authentication in real-time," she added.
Kezzler, a company at the forefront of unit-level traceability, works to solve real-world problems in a sustainable way, with a focus on securing supply chains across all industries.
Commenting on the GFSI event Akselsen stated, "Kezzler's technology has the ability to change the global food industry forever by making every single product digitally unique and interactive."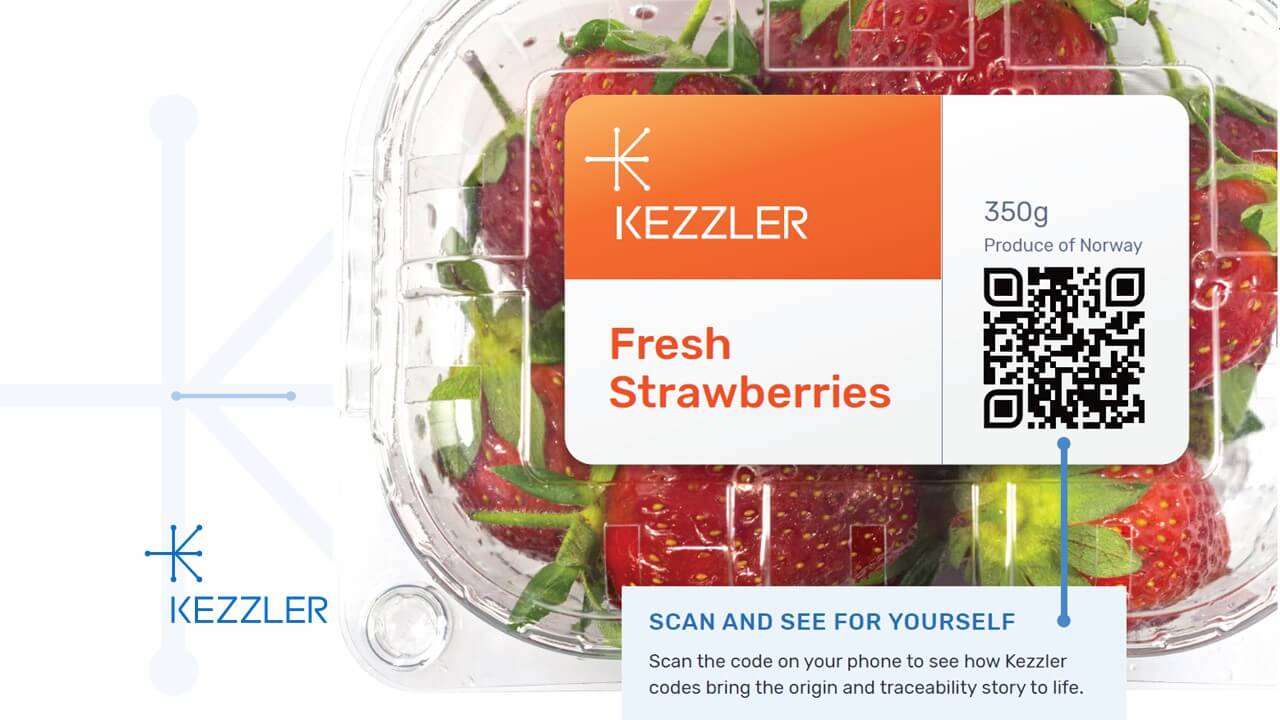 Grass-to-Glass Traceability
During this year's event, Kezzler shared insights from their work with FrieslandCampina's infant formula brand, FRISO. Referencing the case study, Akselsen demonstrated how Kezzler's technology works in practice, tracking information from farms in The Netherlands to consumers in China.
"FrieslandCampina has deployed Kezzler technology to launch the Track Easy solution. Thanks to the application of unique, secure and traceable identities to every single can, consumers can scan the FRISO products using their phone. This enables them to see the full grass-to-glass journey of the exact product in hand. They can check authenticity and learn more about the product and its origin" Akselsen stated.
"The solution supports confidence in FRISO infant formula by eliminating concerns regarding fraudulent products in the market and enables FrieslandCampina to engage directly with consumers. In China, and soon in many other markets, parents can now trace their product from grass-to-glass and feel reassured they are providing safe nutrition for their children. We believe it is only a matter of time until this level of transparency is expected for all consumer products globally," she continued.

The Integration Process
Akselsen also spoke of how the Kezzler solution was designed to be "effortless" for clients.
"Companies such as FrieslandCampina work with Kezzler because we have an extremely flexible and scalable suite of cloud-based solutions. The Kezzler traceability and serialization platform can be easily integrated with existing IT infrastructure and logistical systems in the supply chain leading to low operational burden," Akselsen explained.
"Our solutions can be used in any industry where unit-level traceability is needed. This can be due to government requirements, consumer demand or internal drivers such as lack of product or end-user visibility. They are also relevant where there are other supply chain inefficiencies such as diversion or un-targeted recalls" she added.
Kezzler's Continued Growth
Kezzler was among the invited speakers at the GFSI 2020 conference following a record breaking year for the company last year. In 2019 Kezzler announced that over six billion products were carrying its unique codes worldwide, with the company recording an average of four million API calls per day.
The company also continued to expand globally, with the announcement of their recent appointment of Pengfei Zhang as Director of Pre-sale and Delivery in their Singapore office, a move that came just three months after the opening of their first Chinese office in Beijing.