Solutions / Consumer Engagement
Create an end-to-end customer relationship
Turn each product into your own consumer engagement platform. Build brand trust, increase loyalty, and instantly reward consumers by using your products as a brand-owned digital marketing channel.
Communicate directly with 100% of consumers through unique, secure and traceable identities. Create contextual consumer experiences, reinforcing transparency while protecting revenue and reputation. Following the customer journey to product consumption means additional data for sound marketing decisions.
How it works
Engage & Communicate
Deliver augmented context-driven product experiences in real-time.
Retain & Grow
Build trust, increase loyalty, instantly reward consumers.
Incentivize Recycling
Fuel recycling by informing and/or incentivizing consumers.
Selected Modules
Kezzler Authenticate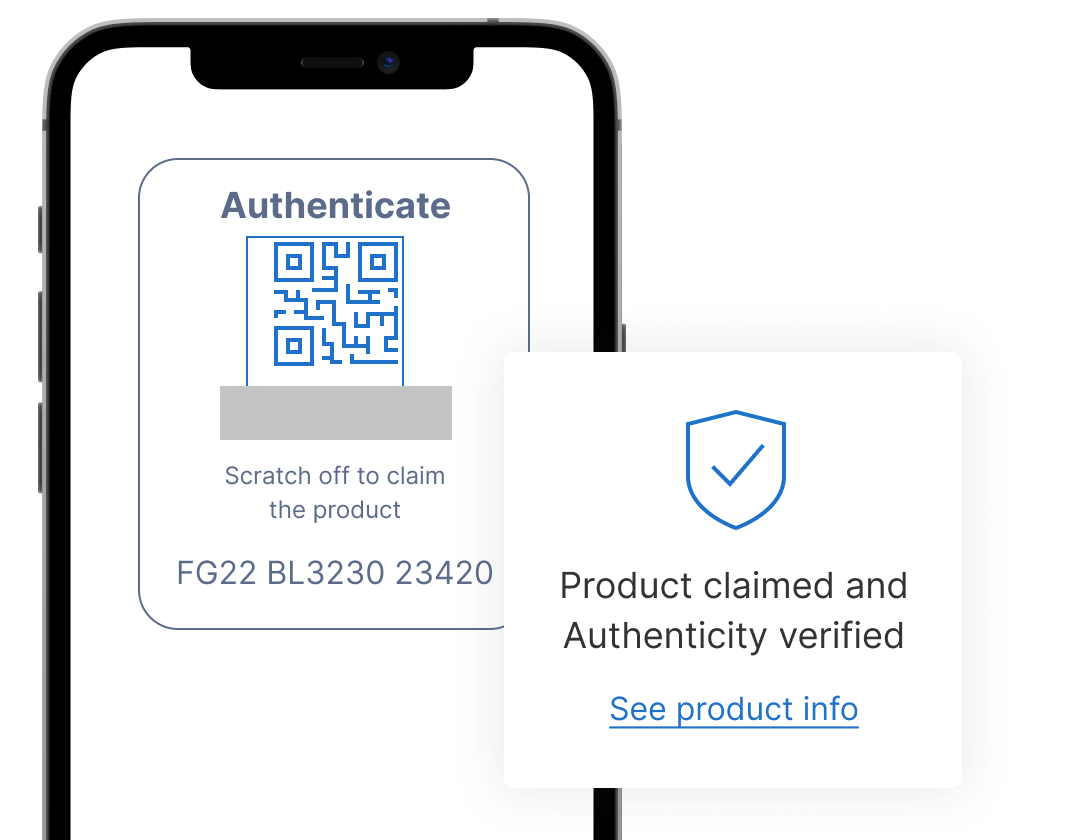 Consumers can check product authenticity by scanning the unique code using the smartphone camera. The Kezzler Authenticate label contains a QR code and a scratch/peel off area with a hidden pin. Upon scanning the code, the consumer is directed to a landing page to insert security pin. This unlocks verification of authenticity.
Kezzler Engage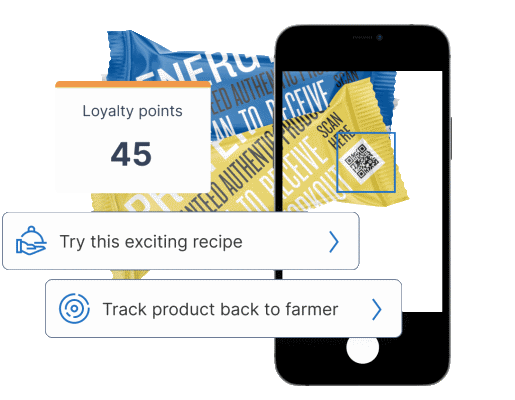 Deliver an enhanced, personalized and context aware consumer experience seamlessly across multiple sales channels and geographies. Predominantly a program-based API-driven approach to building engagement programs with the possibility of building any UI on top of it, supporting both iOS/Android applications.
Engagement Integrations
Build engaging consumer engagement programs on top of our rich set of APIs. Easy access to customized datasets on product, batch and unit level enables you to give consumers more in-depth information about the products origin, content and journey.
Kezzler's solution offers a flexible data set made available through customizable set of APIs with neglectable latency built to ensure the optimal consumer experience.
Geofence
Detect suspicious consumer behaviour by engaging Kezzler Geofence for any products marked with UIDs. It allows clients to mark selected batches of UIDs with intended market or region. Run targeted, local campaigns for specific locations.
GS1 Digital Link
The "GS1 Digital Link Standard" makes it possible to assign different types of data to the same code. By having one code that contains all the necessary information about a product, there is no need to have multiple barcodes on a single package. Learn more
Consumer related insights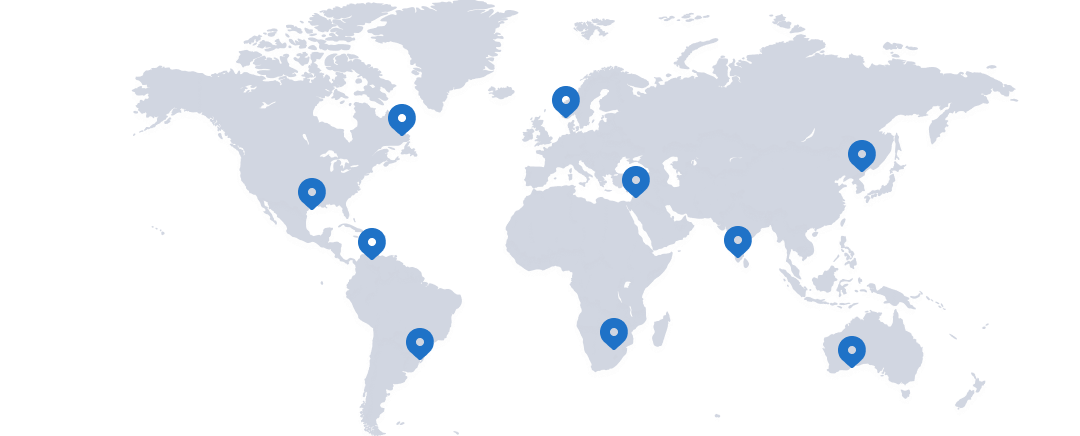 Individual scan-based insights
Geographical spread of consumer scans
Consumer interaction trends over time
Consumer interaction trends per SKU
Scanning pattern related insights
Cross border scanning
Duplicate scanning and counterfeit detection
Alerts bades on abnormal scanning behaviour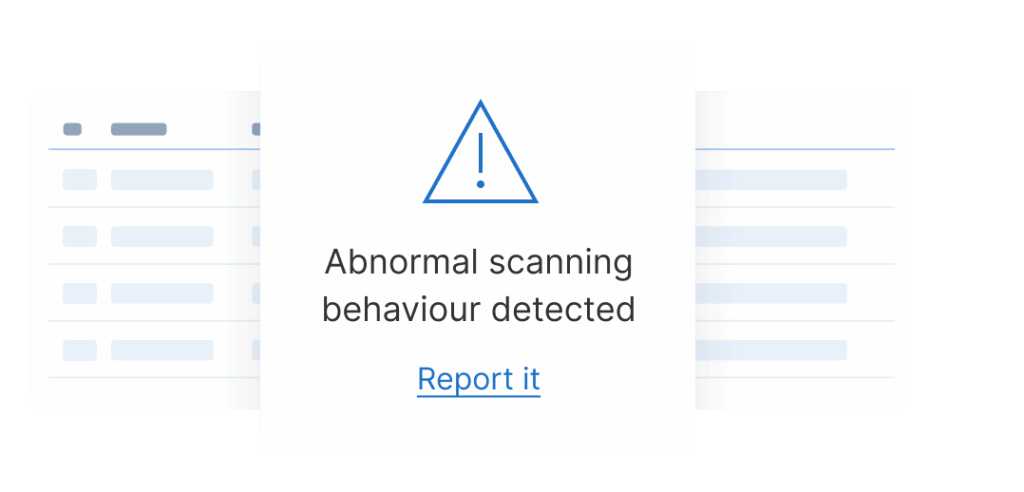 Correlating consumer scans with other information
Impact of marketing activities on consumer interaction
Variation of interaction based on geography, production, batches etc.
Frequently asked questions
Can I run promotions with and without retailers?
You can do both, working in cooperation with or independently of retailers. The freedom to run timely, targeted promotions when you want and when you need to – is a key advantage with Kezzler's solution. And there are also significant cost savings to be made here.
Am I able to modify content on the go?
Different UIDs (Unique Identifiers)  can link to different experiences such as loyalty programs, rewards, surveys and other content which can be changed or turned on or off with a click. On the go. It gives your brand a huge advantage, saving time and money. The brand owner has the luxury of running different promotions and different experiences all at the same time; in different areas and on different packs. And the content of these experiences can be changed in real time to capitalise on local events, or even the weather.
What are the opportunities for consumer engagement?
Through the packaging, you now have a new key touchpoint and marketing channel that is owned by the brand.. Adding a unique, secure and traceable digital Kezzler identity enables you to have a direct, two-way conversation with your consumers. Data and insights let you tailor real-time messages and experiences to each individual consumer, enhancing the impact of your marketing. Whether it is a long-term loyalty program, rewards, contests, new product offerings, surveys or just any value-added content, it can all be made available directly on the packaging.
What if there are no loyalty programs in place or no sales promotions?
Does that mean that the UID (Unique Identifier) are empty, or you can't use them in the first place? No. Not all brands run loyalty campaigns and you might not have rewards or promotions to give out at all times. The UID can be used simply as a channel for videos, relevant recipes for the product, related products, warranty information, or product information such as origin etc. Even without any added content, the UID will always tell consumers if a product is genuine or not.
How can I encourage consumers to engage with me?
Nowadays, customers are increasingly demanding to have additional information about the products they are consuming: provenance, supply chain, how to recycle, CO2 emissions, composition. Kezzler UIDs allow brands to implement consumer engagement and loyalty programs, offering additional information to consumers together with points and rewards associated with loyalty programs. As such, they have a real incentive to use the codes in order to engage with the brand.
Data & Analytics Solutions
Structured datasets across the supply-chain
Contact us
Learn how your business can benefit from offering consumers an enhanced, digital and interactive experience through augmented products.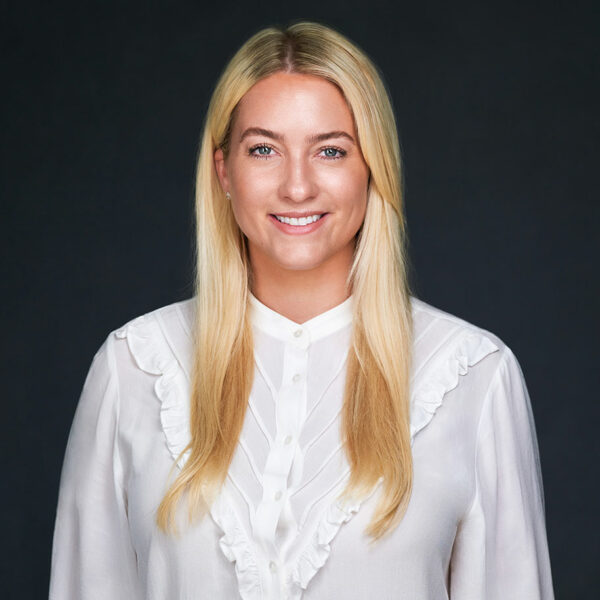 Henrikke Sylte
Head of Marketing and Communications