Come for the compliance, stay for the sustainability
A recent study conducted by Forrester Consulting, commissioned by Rockwell Automation, has revealed that companies are currently focusing (or will soon focus) on ESG initiatives, not necessarily only for regulatory purposes but for self-reported (50% of survey respondents) sustainability improvements. Compliance can be the impetus for introducing solutions that help secure transparency and trust as well as the technical underpinnings of sustainability initiatives, such as serialization and traceability. But it is only the beginning of the story.
Both regulatory and market forces are pushing supply chains and consumption toward sustainability – and proving the viability of sustainability efforts (both for compliance purposes and by consumer demand). Environmental, social, and governance (ESG) initiatives are in place to ensure that sustainability can be achieved and measured, along with other critical benefits, through traceability technology.
Serialization and traceability enable visibility and transparency, and support the goals of consumers, regulatory authorities, and companies:
Consumers want to make informed choices about what they buy and use, expecting safe and sustainable products.
Governments and regulatory bodies are concerned with protecting people, businesses, and society at large.
Companies want foolproof ways to achieve compliance, sustainability, and ESG goals, prevent financial and reputational losses and lost opportunities, and build engagement and trust with consumers.
First comes compliance…
While regulatory compliance is almost always the primary driver for introducing basic environmental, social, and governance (ESG) initiatives, it can be a springboard to greater action and tangible sustainability efforts.
Enabled by traceability
Many regulatory efforts are already underway, and traceability can help to get ahead of changes:
The EU Green Deal and digital product passports will require that products sold in the EU market must meet higher sustainability standards, and traceability technology will be central to maintaining compliance and collecting data to show and report validity. Up first in the EU's strategy are textiles, batteries, and toys, with a comprehensive rollout plan for other industries over the coming months and years.
Compliance may become more granular than just at the EU level. From 2023, Germany's new Supply Chain Due Diligence Act will require businesses with a significant presence in Germany to assume some responsibility for human rights and environmental violations throughout their supply chain.
From 2027, point-of-sale devices in the United States will be expected to support GS1's Digital Link specification, turning the humble barcode into a web-enabled connection to product recalls, supply chain data, and more.
As governments and regulators move to require more traceability up and down the supply chain, it makes sense to prepare for coming regulations and invest early to get the value that traceability provides above and beyond compliance.
It's all about the consumer
Requirements to report against ESG metrics made the need for traceability more apparent, but it is consumer demand (and brands' interest in consumer experience) for visibility into ESG and sustainability efforts, the sourcing and supply chain journey of the products they purchase, that have begun to make traceability technology critical. Sixty-two percent of respondents said they are using traceability data to improve the customer experience with products. Other applications of traceability data can also significantly augment the customer experience as well as improve market and marketing insights for a number of reasons, for example, a better understanding of marketing channels and spend attribution and reducing the cost of customer acquisition.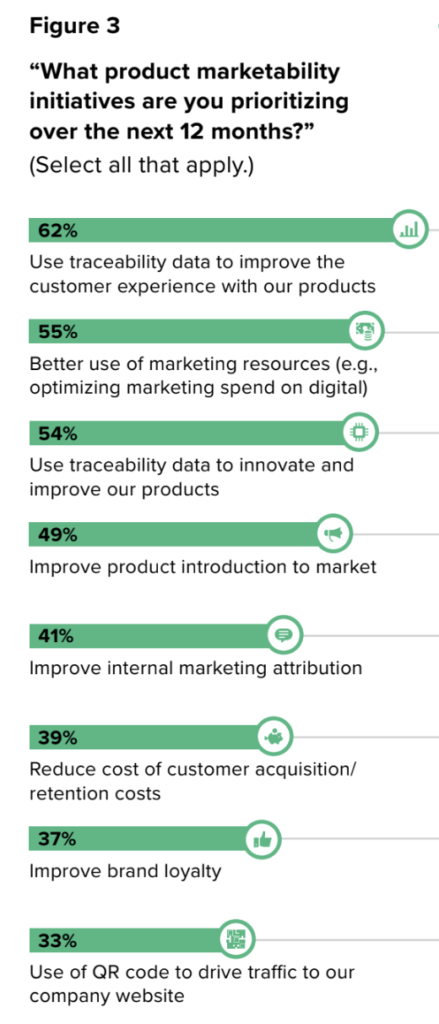 In order for companies to get more data and visibility into end-to-end supply chains (i.e., from the acquisition of raw materials all the way through to the product arriving in consumers' hands, serialization using unique product identifiers is required for complete journey tracking.
Tap into the power of serialization and traceability
Companies are expected to take full responsibility for products they put on the market, but in reality, they have very little information about or control over manufactured products beyond the point of manufacturing. Being able to make the full product journey visible through traceability is key to securing transparency and trust, which companies will depend on to make viable claims about sustainability. For example, with unique digital product IDs, companies can collect critical and useful data for building and maintaining verifiably sustainable supply chains.
This data can be further analyzed to make projections about supply chain operations, risk, and potential, respond to disruption and change, improve efficiency, reduce costs, calculate carbon footprint, reduce waste, make more targeted recalls, provide traceable product authenticity guarantees, and much more.
As all of society moves toward more demonstrably sustainable behavior, traceability technology paves the way to get there.
This blog post is the third in a series from Kezzler and Rockwell Automation sharing insights from a recent Forrester Consulting thought leadership survey, "Increase Brand Loyalty And Generate ROI With Improved Traceability". Read the first and second parts of the blog series.
Read the full study
This 2022 study from Rockwell Automation examines the impact of increased serialization efforts on customer experience and customer loyalty.
Explore successful trends in improved data ownership, reduced counterfeiting and gray-market diversion, and customer relationship management.
Contact us
Get in touch to learn about how traceability technology powers ESG and compliance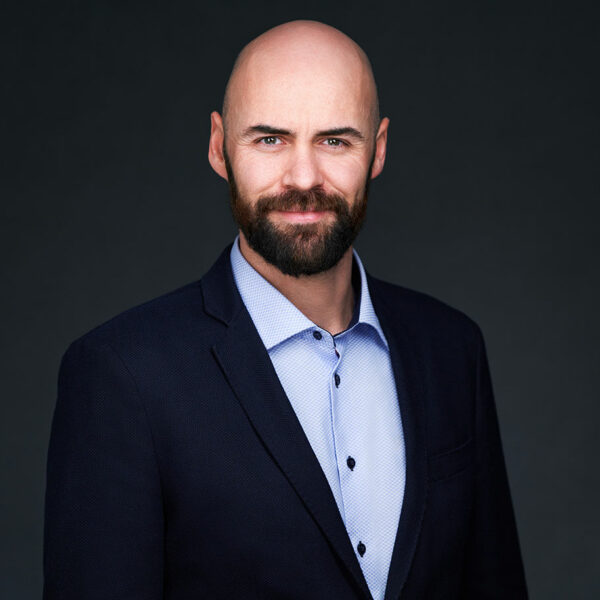 Piet de Vriendt
Sr. Business Development Manager