An overview of EU policies and regulations for a more circular, sustainable apparel industry
The future of fashion is dressed in policy, not just the DPP. The EU has proposed a number of policies and regulations that aim to make apparel more sustainable and circular. The Circular Economy Action Plan sets forth requirements for making clothing longer-lasting, repairable and easier to reuse and recycle. In addition, the new rules will ban the destruction of unsold clothing. It will also rein in waste and regulate design to ensure compliance with eco-design requirements (ESPR). And, as has been a big focus, it will introduce a digital product passport (DPP) as a tool to digitally register, process and share information about an individual product across the entire supply chain.
Attempting to overhaul an entire industry, redressing the imbalance created by the perils of fast fashion and reversing years of unsustainable production, the EU will hold apparel brands to account, calling for an end to fast fashion by 2030. The European Commission's vision unfolds in the EU Strategy for Sustainable and Circular Textiles as a part of the aforementioned Circular Economy Action Plan and EU Green Deal.
The textile policy landscape
The ESPR prescribes minimum requirements for achieving product circularity in the internal market. It also introduces the DPP and textile labeling rules. Both measures will be critical in sharing important information about the product, its provenance, its journey through the supply chain, and its circular properties. That is, information on how to reuse, repair, recycle, etc., from manufacturers to consumers, other businesses and competent authorities.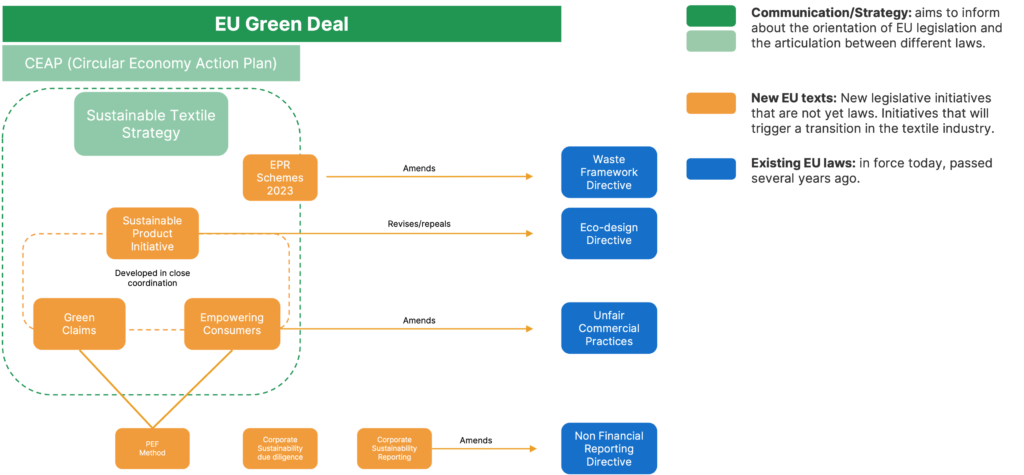 Key textile focus areas
Key parts of the textile landscape also include:
The Green Claims Initiative and Product Environmental Footprint (PEF), will crack down on greenwashing. It will tighten up rules on companies making "green" or eco-friendly claims about their products. The PEF is a life cycle assessment that will help measure environmental performance.
Initiatives to reduce microplastics and synthetic fiber pollution. The EC will adopt an initiative to address microplastics in the environment, establishing labeling, certification, standardization and regulation measures.
The EC proposes a ban on the destruction of unsold textiles. It aims to end the overproduction and waste of unsold or returned apparel. This policy area, tied to the eco-design regulation, will also include a transparency dimension, requiring disclosure of the number of unsold products disposed of per year and the entire chain of related actions upon disposal.
The EU strategy proposes actions for the full lifecycle of textile products, including textile waste and Extended Producer Responsibility (EPR). The EU Waste Framework Directive introduces harmonized EU EPR rules for textiles. This will require member states to be set up to take financial and operational responsibility for collection, recovery, and management of waste by 2025 at the latest.
Many related regulatory and legislative proposals will also be relevant for textiles and apparel. These include regulations on the use of hazardous substances, waste management and shipment, on-label disclosures of sustainability and circularity information, and more.
How do these policy changes affect your brand?
Apparel brands face greater scrutiny and responsibility than ever in a rapidly changing regulatory environment. The EU issues new or revised guidance all the time. It is clear that the future of fashion is dressed in policy. It pays to keep up.
Kezzler has compiled a guide, "EU policy developments for the textile and fashion industries", which outlines the regulatory and policy landscape, breaks down the details, and provides guidance on what you can do next to prepare for these changes.
Download "EU policy developments for textile and fashion industries"
Ready to learn more?
Get in touch to find out how we help brands connect the physical and the digital, unlocking value most people haven't even thought of before.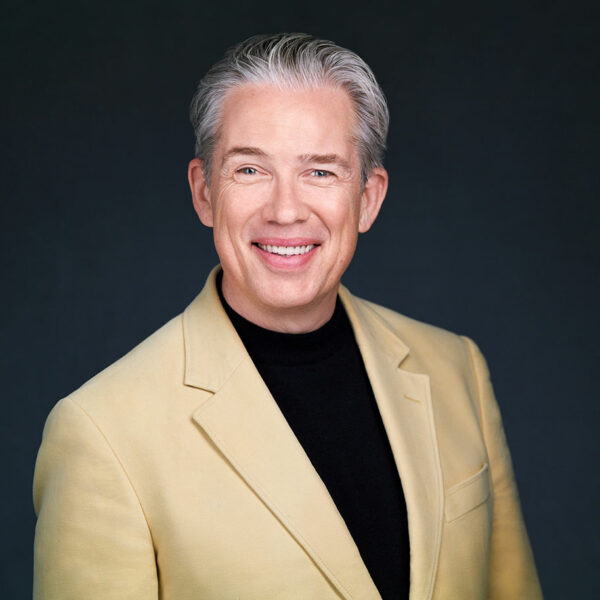 Cyrus Gilbert-Rolfe
SVP Retail & Apparel