Supply Chain Sustainability Platform
Across all industries, customers, investors, employees, regulators and consumers are demanding more sustainable products and supply chains.
To meet these expectations, brands require full supply chain visibility, and the ability to trace products across the entire product lifecycle from raw material input to finished products.

True sustainability also demands knowing what has happened to products beyond the point of sale.

Track products to build resilience and sustainability into your supply chain
Product lifecycle transparency

By tracking an individual product's unique journey through each step of the supply chain, brands can proactively use real data and insights to resolve issues related to product sustainability, production efficiency, regulatory compliance and risk.
Digital tracking provides upstream visibility for sustainable inputs and production. Tracking and recording the provenance of inputs and raw materials allows this information to be shared with conscious consumers.
Downstream visibility of the digital threads, enables brands to proactively manage recalls and a product's end of life through remanufacturing or recycling.
Product authentication helps reduce the volume and value of counterfeits. Fake products often breach sustainable production and working conditions standards.
Businesses must invest in digital traceability tools to create circular supply chains

Source: World Economic Forum
Full overview of reusable packaging
Digitally tracking products beyond the point of sale and following the digital thread for the entire product lifecycle, provides brands with new opportunities to proactively manage a product's end of life.
The Kezzler platform captures data related to each individual item of packaging: when it was produced, how many times it has been reused, when and where it has been filled, and when it was removed from circulation.
By gaining a full overview of every single item of reuseable packaging produced brands can calculate the CO2 footprint per item together with savings in packaging materials.
Reduce waste
Improve the recall process, reduce waste and better inform consumers. The module can be an integrated part of a complete Recall process:
Offer targeted recall as well as actively alerting consumers that have scanned, or are scanning, a recalled product unit.
List of recalled products may be based on a variety of parameters including production batch, ingredients batch, and shipping container.
Expiry date tracking throughout the supply chain and dynamic expiry date calculations are further examples of programs that can be created with the Kezzler platform.
CO2 calculations at item level
Traceability empowers brands to take control of their products' carbon footprints. The Kezzler platform keeps track of ingredients, production and distribution steps, combining upstream and downstream CO2 data enabling brands to create unit-level CO2 calculations.
This information can be shared directly with consumers through the Kezzler UID on connected packaging.
Recycling
With connected digitized packaging multiple objectives can be achieved through one unique code on each package, enabling a frictionless experience for customers.
Kezzler UIDs allow brands to easily implement consumer engagement initiatives directly through the product.
Share tailored recycling instructions and information
Incentivize recycling through reward programs
Key drivers for supply chain visibility
Internal and external drivers are driving demand for more transparency in supply chains. Brands are under increasing pressure to meet Government reporting requirements, reduce waste and product diversion, achieve targeted recalls and offer improved customer support. While conscious consumers are wanting to know more about the environmental footprint of the exact product in hand and instructions on how to recycle.
---
External
Consumer Safety: Ensure safe, secure & genuine products are available in the supply chain for consumers
Consumer Engagement: Increase connectivity between consumer and the brand, creating a trusted, transparent relationship
Brand Protection and Differentiation: Enhanced product security, deters the entry of counterfeits and maintains brand reputation
Regulations: An increasing number of regulations are emerging
Internal
Supply Chain Efficiency: Reveal hidden bottlenecks, for continuous improvement, eliminate waste, and improve sustainability.
Supply Chain Resilience: Real-time data permits timely intervention and corrective actions when required
Communication Silos: Trusted shared data empowers cross-functional cooperation and inter-organizational collaboration
Supply Chain Risks: Understanding the conditions experienced during global shipments, permits strategic planning to mitigate potential risks
True visibility with hierachies
For true visibility across the product lifecycle, you need to build hierarchies. The Kezzler platform enables a multi-tier aggregation process: for example, lid to can, can to box, box to pallet.
Each respective level is serialized using Kezzler UIDs and any subsequent rework or re-aggregation throughout distribution is tracked
In the case of quality issues proactive measures can be taken immediately before the affected products reach consumers
Simplify Integrations with GS1 Standards
GS1 standards are designed to improve the efficiency, safety, and visibility of supply chains across physical and digital channels in 25 sectors. They form a business language that identifies, captures, and shares key information about products, locations, assets, and more.
Build trust and loyalty by sharing your sustainability story
Today's conscious consumers are driven by a new set of demands and expectations around brand transparency and access to product information.
Communicate your ESG (Environmental, Social and Governance) efforts directly to consumers through Connected Products. Share the environmental footprint for the exact product in hand together with tailored recycling instructions.
Regulatory Compliance – Is your Business Prepared?
We can help you achieve compliance with the multiple regulatory initiatives.
Contact us
Meet the demands of consumers by sharing your sustainability practices directly with them through connected packaging. Use sustainability as a brand asset to increase demand and revenue.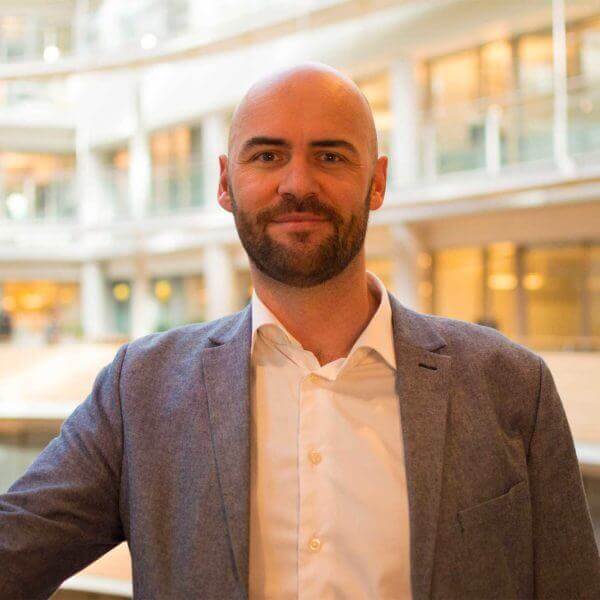 Piet de Vriendt
Sr. Business Development Manager