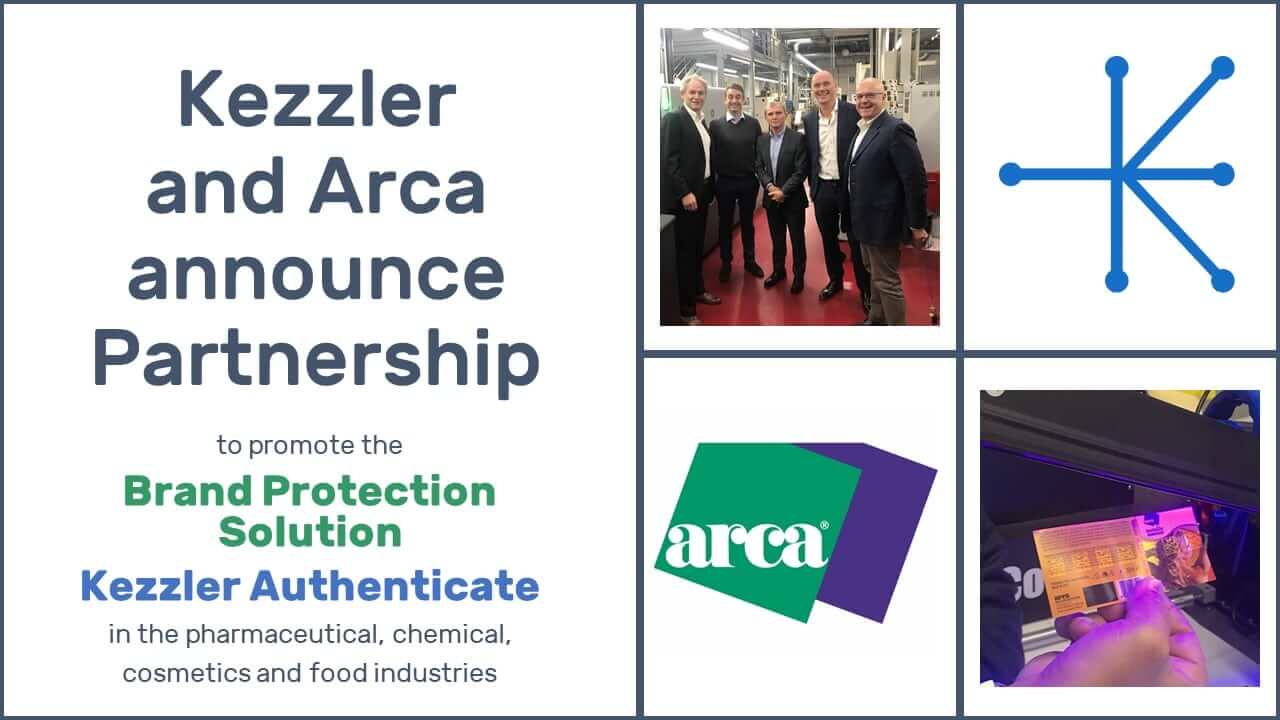 Kezzler and Arca Etichette Spa partner to promote brand protection solution Kezzler Authenticate in the pharmaceutical, chemical, cosmetics and food industries –
Kezzler AS, a pioneer in serialization technology, and Arca Etichette Spa, a leading provider of labeling and identification solutions, today announced a strategic partnership to market Kezzler Authenticate.
Under the agreement Kezzler and Arca Etichette will work together to promote Kezzler's brand protection solution Kezzler Authenticate in the pharmaceutical, chemical, cosmetics and food industries in Italy, as well as in other European countries where Arca Etichette has customers. The two companies have previously worked together on a number of projects, with Arca leveraging its strong network across the region as a member of the European label manufacturers organization Concordia Labels.
Kezzler Authenticate is a brand protection solution developed based on Kezzler's years of experience in the field. It has been designed to make digital brand protection easy through a fully built and hosted end-to-end solution that enables consumers to verify their products are genuine. The solution utilizes intelligent authentication and real-time monitoring, in addition to dual code labels, for product validation. The Kezzler unique solution for pre-serialization greatly simplifies implementation for the customer.
Brands can also opt to incorporate various add-on modules to the solution as required, such as Kezzler Inspect, which enables inspectors to check products through the entire value chain, and Kezzler Geo-fence, which detects "unauthorized" distribution by defining a target market for each batch of products.
"This partnership comes at an exciting time for the labeling and packaging industry. Companies are increasingly looking for solutions that can help them protect both their brand and their consumers by ensuring supply chain visibility and enabling product authentication in real-time. Kezzler Authenticate is a tried and tested solution adopted by global brands worldwide and Arca is looking forward to working with Kezzler to promote holistic and innovative solutions in our key markets," said Arca Sales Director Andrea Valtora.
Commenting on the partnership CEO of Kezzler Christine C. Akselsen stated, "We are delighted to be partnering with Arca Etichette. Arca is strategically placed to support Kezzler in marketing its brand protection solution in Italy and beyond, and we welcome the opportunity to advance our work together, exchange experiences and identify mutual opportunities for joint marketing events and solutions."
About Kezzler
Kezzler AS, a global leader in serialization technologies, offers solutions for brand protection, supply chain visibility and connecting with consumers. It does this by giving every item a unique, secure and traceable identity in the form of a code.
The patented, innovative and scalable technologies are used by global brands worldwide in multiple industries including fast moving consumer goods, food and beverage, agriculture, luxury, industrial, and pharmaceuticals.Kezzler has a strong network of partners and offices in Norway, United States, India, and the Netherlands. To learn more visit
www.kezzler.com
.
About Arca Etichette
A company that is consistently committed to perfecting its products: materials selected by a fully equipped laboratory, modern and innovative printing machines, a qualified and highly motivated staff. Advanced labels and sleeves that ensure compliance with all specifications and provide the level of efficiency required for the manufacturing industry. At Arca, investments in R&D is approximately 5% of net earnings, with, on average, one patent every year. ISO 9001 certified quality system (covering engineering design, production and sales) is based on modern production processes, inspired by theories of "lean production" and total quality.
A flexible organization that works hard to satisfy customers, with a clear vision and precise mission. Specializing in self-adhesive labels and shrink sleeves, Arca also manufactures labeling machines. Designing and manufacturing both consumables and machinery, Arca is a one-stop supplier, mastering both aspects of the industry, providing unparalleled project design consulting and a comprehensive service.
See https://www.arcaetichette.it/?lang=en and https://www.arcalabelingmarking.com
Contact: