EU Digital Product Passports
The European Union will soon require certain products sold in the EU market to have a digital product passport.
A digital product passport (DPP) is a digital record of a unique product's complete life cycle, storing key traceability data about the product. This data aims to support the circular economy, decarbonization, and sustainability.
To download our white paper "The Digital Product Passport Imperative", register your mail at the bottom of the page.
The EU Digital Product Passport helps to create sustainable value chains. The passports standardize the information that manufacturers must include for every product.
Digital product passport in practice
Putting DPPs into practice requires a technical solution to collect all data about manufactured and distributed products. Digital traceability technology is key to deploying DPPs at an enterprise level. All physical components and materials have unique digital identities (UIDs). Any time something happens to a product during its supply chain journey, a DPP collects data associated with the UID.
Internally, branded goods companies have long wanted more granular traceability, and technology has matured enough to enable this granularity. The direction is clear: full traceability for a detailed understanding of the value chain is a must-have. As such, companies can start (and have started, in many cases) to prepare for what is coming, while getting a return on their investment along the way.
Added benefits from traceability
Critical to making the DPP concept work is the need to establish more centralized data repositories to consolidate all the traceability data that will be required to report to the EU. Companies also gain additional business benefits from traceability, which is why many companies are starting today: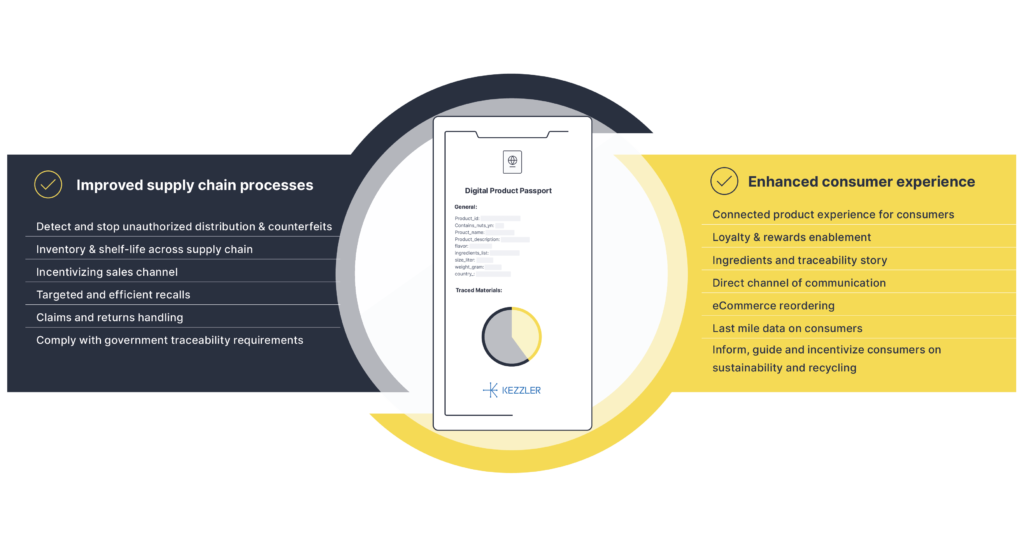 DPP and the possibilities with GS1 Digital Link
To facilitate this data collection and sharing, brands need a standardized approach. A scannable code on the product itself leads to the digital product passport, and the GS1 Digital Link standard in a QR code (or RFID) form is the natural way to do so.
GS1 Sweden & Kezzler recently hosted a joint webinar explaining digital product passports and the possibilities with GS1 Standards.
In this webinar you will learn:
Why the EU is implementing digital product passports
How and in what industries will DPP be rolled out
How GS1 Digital Link will support DPP initiatives
What are companies doing to prepare while gaining immediate business value
Watch the webinar today ↓
Charging forward with the EV battery revolution

The EV battery value chain demands consideration. The electric car may produce zero emissions, but batteries remain a challenge. Read more

Next step for apparel: Build a transparent supply chain

Assigning digital IDs to garments meets demand for traceable and transparent apparel and awareness of what you wear Read more

Sewing up sustainable fashion with digital traceability

Digital traceability makes a sustainable fashion industry possible. Mandates like the European Union's digital product passports requires it. Read more
Enter your details to download the white paper
Frequently asked questions
What is a digital product passport?

A digital product passport is a digital record of a unique product's complete life cycle, storing key traceability data about the product, all aimed at supporting the circular economy, decarbonization, and sustainability. Data remains available at least until the product's end of life.
What product categories will the DPP cover first?

Batteries and textiles are the first product categories the DPP will cover. The DPP rollout will be gradual, and batteries and textiles are already subject to the draft regulations. Toys will be the next category for which the EU will roll out DPP requirements.
What data will be available on a digital product passport?

The information or data contained in a digital product passport will depend on the product and product category. Generally, the passport will include information about the origin, production, delivery, use, and recycling of that product, with a verifiable set of traceability data from across the product's entire life cycle.

Practically, when scanning a QR code on a product, the user will automatically be redirected to an online page that displays the complete and updated product passport for the specific product at hand.

This passport data together tells a story about a product and where it, and its component parts, have been. Product lifecycle data can help inform and reassure consumers of the product's origin, confirm green credentials and prevent greenwashing, and enable manufacturers to contribute to a more circular economy that prioritizes durability, reuse, and efficiency of methods and materials.
Contact us
Reach out to us for a discussion on an incremental preparation that enables a future-proof DPP solution that will provide benefits immediately – even before DPPs are required.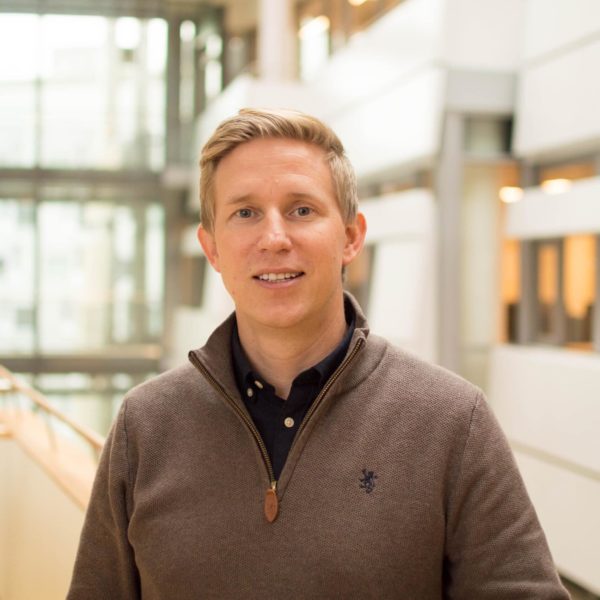 Simen Kjellberg
Chief Product Officer